Last updated: March 21, 2019
The U.S. coal industry is declining in the face of lower-cost natural gas, renewable energy and regulations designed to reduce greenhouse gas emissions and protect public health. Decades of mechanization have also reduced employment. This has spurred a wave of coal companies to declare bankruptcy, including four industry giants between 2015 and 2018.  
Utilities are accelerating their retirement of coal plants because they are increasingly uneconomical. According to cost estimates from investment bank Lazard, the lower-end of the average price for coal-fired power is now almost $20 higher per megawatt hour than that for a natural gas. The lower-end of the average prices per megawatt hour for wind and utility-scale solar are even more competitive with coal, even without subsidies, at $29 and $36 respectively.
As of 2018, 70 percent of coal capacity in the U.S. had a higher running cost than renewables, and by 2030, that number is expected to reach 100 percent.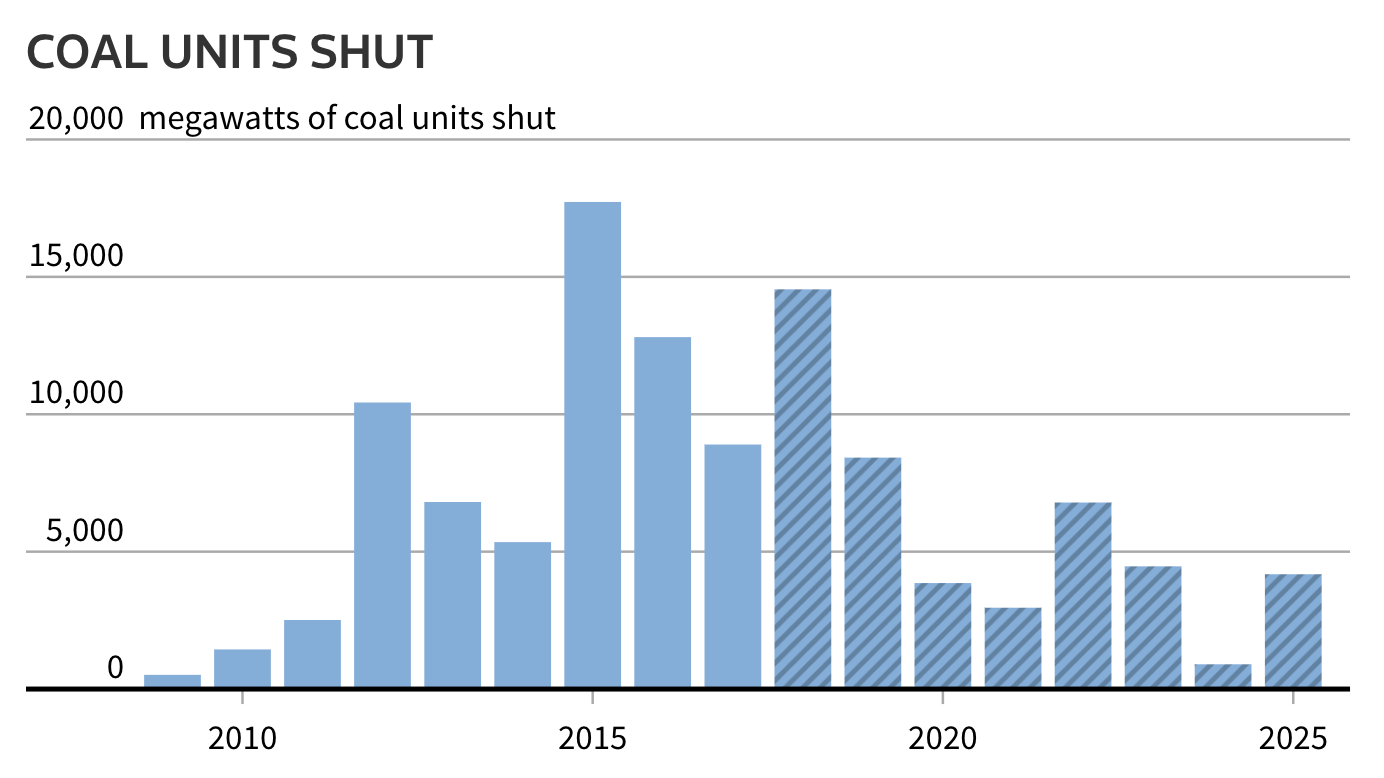 Even with the Trump administration's attempts to revive the industry, coal plant closures during Trump's first two years in office exceeded units retired during the first five years of the Obama administration. Despite the Environmental Protection Agency's planned roll back of the Clean Power Plan, most  utilities have no plans to delay or reverse coal plant retirements.
In August 2018, state regulators approved Xcel Energy's plan to retire two Colorado coal units a decade early and replace them with renewables, which the utility says will save customers around $200 million. In September 2018, Northern Indiana Public Service Company announced plans to retire the majority of its coal generation within five years and stop burning coal altogether within the next decade, citing cost as the main reason. The utility said it would likely replace the retiring units with renewables and battery storage.
Domestic coal consumption is falling
According to the U.S. Energy Information Administration, total U.S. coal consumption in 2018 was the the lowest in 39 years, falling 4 percent from 2017, driven mainly by declines in coal use in the electric power sector.
Exports are rising, but that may not last
Coal exports increased 61 percent in 2017, and continued to rise in 2018. The increased demand for U.S. coal exports, mostly in Asia and Europe, has been caused by growing electricity demand in India, more demand for coal as a replacement for nuclear in South Korea and Japan, and disruptions in coal supply from Australia and Indonesia, among other factors.
Analysts caution the export uptick may not last due to slowing global economic growth, particularly in key markets for thermal coal such as India and Turkey, as well as increasing trade tension between the U.S. and China. Higher demand for U.S. coal abroad contributed to a six percent increase in domestic production in 2017, following several years of declines. However, the EIA estimates that coal production in 2018 decreased 3 percent, and expects further declines of 4 percent in 2019 and 6 percent in 2020, due to declining exports and falling power sector consumption.
Coal jobs are declining, while renewable energy jobs are increasing
As a result of the drop in coal use and increasing automation in the coal mining industry over the past few decades, jobs in the coal industry declined while jobs in the renewable energy industry grew. In 2018, the U.S. wind and solar industries employed 446,138 people, according to the 2019 U.S. Energy and Employment Report. Coal mining, support, and coal-generated electricity combined employed 161,033, shedding close to 6,000 jobs from 2017.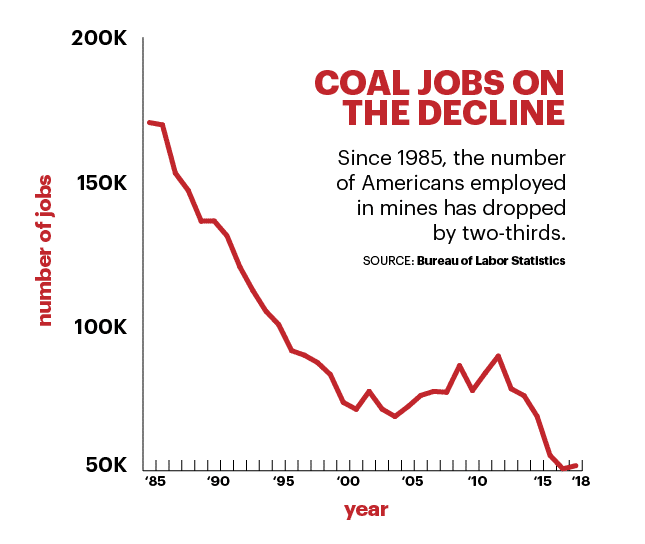 Attempts to save the U.S. coal industry have been unsuccessful
The Trump administration's repeated attempts to throw a lifeline to the coal industry have largely failed. The latest bailout plan, which would have involved the Department of Energy exercising rarely-used emergency authority under the Defense Production Act and Federal Power Act, has reportedly stalled inside the White House. Earlier attempts were also unsuccessful:
In December 2018, the Environmental Protection Agency

announced a proposal

that would eliminate a 2015 rule requiring new coal plants to include carbon capture technology – a rule that EPA administrator and former coal lobbyist Andrew Wheeler claimed placed "excessive burdens" on the industry. However, the move is not likely to help coal rebound as the EPA's

own economic analysis

has found it will do

nothing to slow coal's decline

.

In January 2018, the Federal

Energy Regulatory Commission

unanimously rejected a similarly controversial

DOE proposal to prop up coal and nuclear plants in the name of grid reliability. The vote followed the release of a DOE

study

– commissioned by Energy Secretary Rick Perry – which failed to conclude that coal was necessary for grid reliability, and also did not find that renewables threatened grid reliability. Grid operator PJM, which manages the transmission zone that has been the main focus for the bailouts, has also said repeatedly that the retirement of coal and nuclear plants in the zone will

not create an emergency

nor lead to grid reliability issues.
Some experts also say the lifespan of coal plants won't be extended by new carbon capture technology (CCS). Wind and solar are cheap enough that CCS, which proponents argue is necessary to reach climate goals, in many cases is not worth the investment for coal plants. The Institute for Energy Economics and Financial Analysis found that adding $60 per ton for CO2 capture, or even the $30 per ton cost that advocates say can be achieved, will further undermine coal's ability to compete.
Managing coal's decline
The shift away from coal is expected to continue, based on EIA projections, utility plans, and the economics trends described above.  There is a growing effort to try and manage the coal industry's decline in a way that benefits workers, asset owners, and impacted communities at the same time. Local lawmakers in Colorado, New Mexico, and other states, are working on bills to mitigate the impact of retiring coal plants, with owners recovering investments while workers and communities receive the financial support needed to manage the transition successfully. As time goes on, there will be more case studies on how stakeholders can come together to best navigate the structural decline of coal.