Climate finance will be a central issue at COP26. Avoiding the worst climate change impacts will require massive investment in infrastructure, technology, and low-carbon projects. In 2009, rich, high-emitting countries committed to mobilizing at least $100 billion per year by 2020 through 2024 to support developing countries in accelerating a shift to clean energy and adapting to climate change. Delivering the $100 billion will be one of the key measures for judging the success of the talks. Developed countries are overdue on fulfilling that promise. As of 2019, annual contributions were only up to around $80B.
Recently, industrialized nations released a detailed plan to provide at least $100 billion annually in climate financing to developing countries starting in 2023 (three years after the delivery date promised to the developing world), the plan lacks provisions for rich countries to make up the shortfall for each year between 2020 and 2023 and AOSIS soundly rejected it. Further explanations of the plan are available from E3G and Oxfam.
A range of other questions on climate finance will be on the table at COP26. These include:
Gaining clarity on how to achieve, strengthen, and measure progress on the $100 billion goal and how it will be delivered year-after-year

Determining the portion of climate finance to be allocated to mitigation and adaptation

Discussions on establishing a post-2025 climate finance goal, which countries should contribute and how much

Deciding on a mechanism that could compensate countries experiencing severe and irreparable loss and damage as a result of climate change
Why climate finance is necessary:
To limit the impacts of climate change, there must be a rapid shift from polluting fossil fuels to clean energy which will require large amounts of capital. African climate negotiators have called for $1.3 trillion a year in investment by 2030. BlackRock's Larry Fink estimated that (largely private) investment of $1 trillion annually is needed in the developing world to achieve net-zero — six times the current investment rate of $150 billion. According to the United Nations Environment Program (UNEP), annual adaptation costs in developing countries are projected to reach $140-$300 billion per year by 2030 and $280-500 billion by 2050.
Developed countries who have emitted the most greenhouse gasses, benefited from industrialization, and contributed disproportionately to climate change have the money and responsibility to fund the necessary changes. Private sector investors are also seeking new markets, though the balance of government responsibility and private sector investment is controversial.
The $100 billion climate finance promise:
In 2009 at COP15 in Copenhagen, countries promised to mobilize $100 billion a year for developing countries by 2020. This commitment is central to trust between developing and developed countries. The $100 billion goal is a collective commitment among 23 countries and is dependent on the actions of individual countries to contribute to the total, but there is little transparency into the exact amount each country is contributing.
According to the Organization for Economic Co-operation and Development (OECD), climate finance provided by developed countries only reached $79.6 billion in 2019.
Total climate finance mobilized by wealthy countries (Graph: OECD)
Currently, most of the climate finance provided and mobilized has come from public grants, loans, or through multilateral development bank funds. Accounting often also relies on private finance that has been leveraged by a small proportion of public finance (although private finance mobilization rates are smaller than many expected).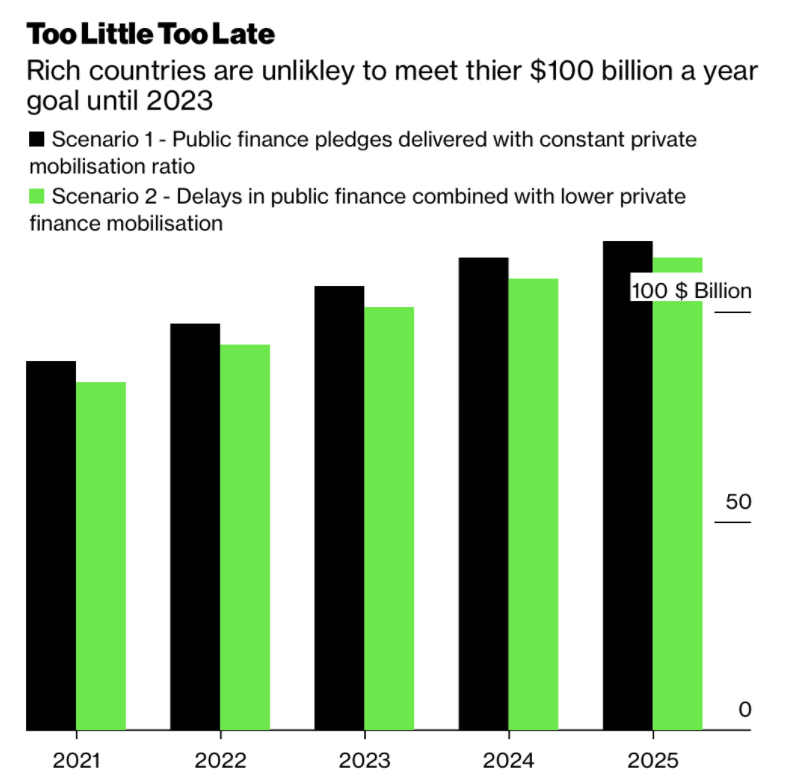 Source: Rich Nations Fail to Meet Climate Fund Target in Blow to COP
Who is not paying their fair share?
The biggest economies contribute the most to climate finance, but not relative to their economic size. The United States, France, the United Kingdom, and Japan are the largest funders. However, their contributions are a small part of their government budgets. The United States, Australia, and Canada all provided less than half of their "fair share" in 2018 based on indicators including greenhouse gas emissions and size of their economies. An ODI report this fall found the U.S. was dead last on contributing its fair share. The U.S. shortfall, between $21 billion and $40 billion yearly, was over double the shortfalls of all other developed countries combined. Only 7 of the 23 developed countries provided their fair share of climate finance in 2018: France, Japan, Norway, Germany, Sweden, Denmark, and Austria.
At the 2021 United Nations General Assembly, the U.S. announced they will double their climate finance contribution to $11.4 billion a year by 2024. While the U.S. is working towards closing the gap, they are still falling short of mobilizing their fair share and face the barrier of requiring Congressional approval to deliver on financing. According to an analysis from ODI, the U.S. should contribute about $41 billion of climate finance yearly.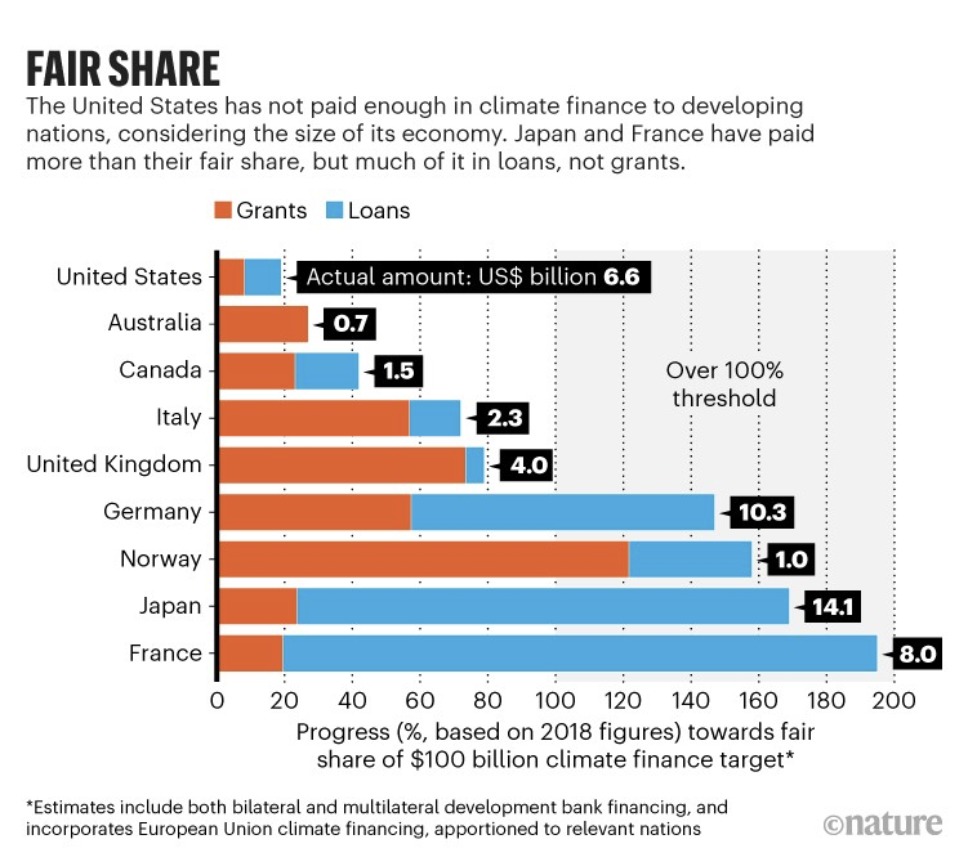 Source: The broken $100-billion promise of climate finance — and how to fix it
How climate finance is distributed:
Developed countries have various channels which they can use for climate finance contributions. Many put their shares through multilateral development banks (MDBs) such as the World Bank.
Alternatively, funds can be channeled through the Global Environment Facility (GEF) and the Green Climate Fund (GCF) — both of which help countries implement the Paris Agreement as entities of the Financial Mechanism of the UN Framework Convention on Climate Change (UNFCCC). They distribute public money as loans and grants, and follow a country-driven approach that lets developing countries lead programming and implementation. In addition, the Parties to the Convention have established additional funds that help developing countries based on country needs, views, and priorities, such as the Special Climate Change Fund (SCCF), the Least Developed Countries Fund (LDCF), and the Adaptation Fund (AF).
Relatively little money has flowed through these vehicles to date. The proportional share of grants has declined between 2013 and 2018, falling from 27% to 20%.
Source: Climate Finance Thematic Briefing: Adaptation Finance
Developing countries are calling for 5% of the proceeds from the global carbon credit trade to be directed to the Adaptation Fund. New carbon market rules are expected to be finalized at COP26.
Seventy-four percent of the public climate finance provided to developing countries was in the form of loans rather than grants. By requiring countries to go deep into debt to repay loans rather than distributing in grants, developed countries increase the debt load of developing countries whose economies have been weakened by Covid and are often already seeking debt relief. Private finance also is primarily in the form of loans and tends to be allocated towards mitigation and not towards addressing the many adaptation needs of developing countries.
Finance for adaptation falls short:
The Paris Agreement lays out a goal to balance finance between adaptation and mitigation.
Vulnerable countries and United Nations Secretary-General António Guterres have called for 50% of the total share of climate finance to be spent on adaptation projects that help people adapt to climate change, especially for developing nations. Adaptation currently only receives 21% of all international climate finance – only $16.8 billion in 2018, compared to an estimated need of $70 billion annually and upwards of $140-300 billion dollars by 2030 and $280-500 billion by 2050. At COP26 all donors and multilateral development banks will be asked to commit to allocating more than half of their climate finance to adaptation and deliver on their commitment by 2024.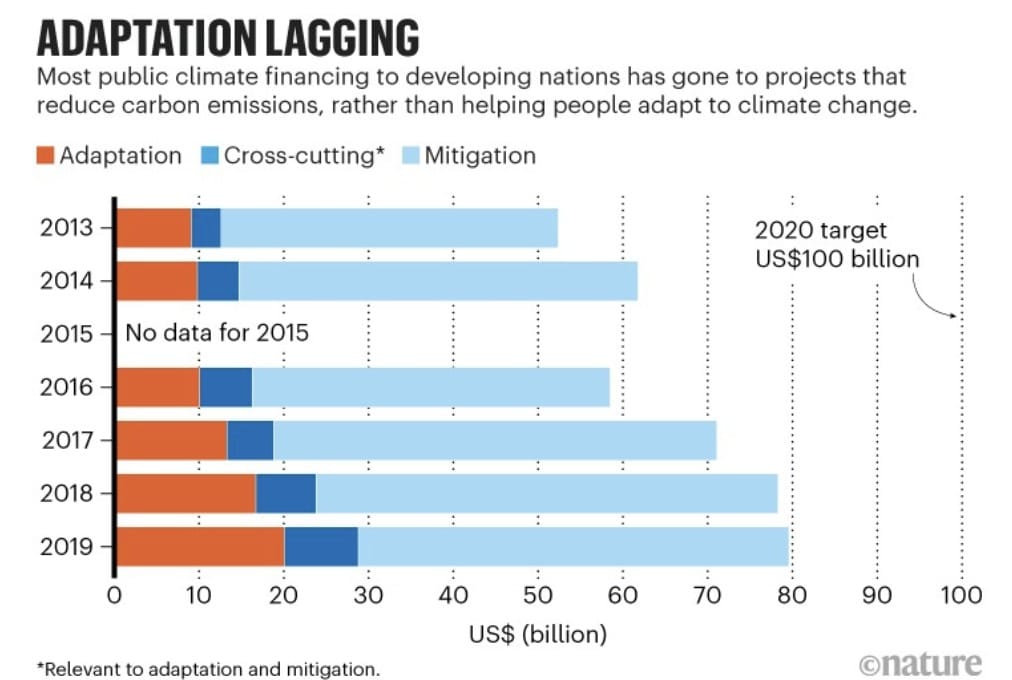 Source: The broken $100-billion promise of climate finance — and how to fix it
What comes next?
The $100 billion pledge is viewed as a floor rather than a ceiling, intended to be increased over time. Because countries have failed to deliver the financing in 2020, developing countries are asking for a more ambitious plan that includes more grant-based finance with at least 50% going to adaptation projects.
At COP26, countries will start negotiating what will come after the $100 billion goal, with decisions due in 2024. Developing countries suggest that donor countries must commit to provide at the minimum $100 billion yearly in public finance alone post-2025, with additional funding from the private sector.